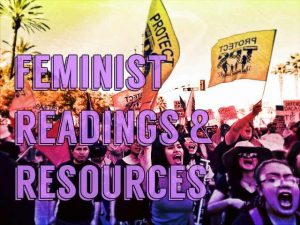 March 8, International Women's Day, is a day of struggle across the world for gender and sexual equality. Below we include a range of resources from a working class feminist and libertarian socialist perspective. These include writings, downloadable pamphlets, audio interviews and recommended articles. — "Quando la mujer se alza, el pueblo avanza / When women rise, the people advance"
A Conservative Threat Offers New Opportunities for Working Class Feminism
"This much is clear: the Women's March represents a political opening to rebuild a revolutionary feminist movement (in conjunction with other developing struggles) that advances demands to improve the lives of working people and embraces conflict with the liberal, capitalist character of the feminist movement of the day.
Text in English / Download the Trifold Flyer in English
Text in Spanish / Down the Trifold Flyer in Spanish
---
Breaking the Waves: Challenging the Liberal Tendency Within Anarchist Feminism
"Breaking the Waves is a call to break with liberal feminism and acknowledge the necessity of reconstructing our own anarchist feminist historical tradition. We are simultaneously declaring a need for anarchists who are feminists and feminists who are anarchists to discuss and debate what anarchist feminism means in practice and to refine that definition through renewed struggle. … Our politics are more than just useful tools for managing our personal lives; they represent the blueprints for a world worth fighting and dying for."
Article Text / Download the Pamphlet
---
Radio Interview with Romina Akemi on "Breaking the Waves"
Covering topics in the article and beyond, one of the authors discusses working class feminism, the destructiveness of call out culture, the cult of the individual in the US, making revolutionary politics relevant to every day people, and on the impact of Trump's election.
"What's causing a lot of people anxiety is the anxiety of not knowing what exactly will be in play [under a Trump presidency] and how this will pan out economically or with social rights. I think this is the point where we can decide, an important juncture, are we going to organize to defend the little stuff that we have now against attack – or can we use it, can this be a political opening to create an offensive?"
Source:- blackrosefed.org