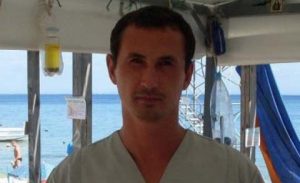 We urge to show solidarity and support of the Crimean anarchist Eugene Karakasheva. He began raising funds for the work of a lawyer and pay for transmission and parcels.
Karakashev Evgeny was born 21 on August 1978 year. A resident of Yevpatoria. Leftist activist, sticking with anarchist beliefs. February 1, 2018 arrested, and February 2, 2018 arrested on suspicion of committing crimes under Part 1 of Art. 282 (hate speech and hate) and Part 2 of Art. 205.2 (public incitement to terrorism) of the Criminal Code. Custody to February 2, 2018.
Description of business
February 1, 2018 Eugene Karakashev was detained by police in Yevpatoriya. Alena Savchuk journalist wrote in facebook that the day of detention at Karakasheva was searched. "We took tough: men broke for the citizen, did not identify, immediately laid on the floor, hall, handcuffed behind his back. He says that stayed in handcuffs to the detention center. Right on his forehead a huge abrasion. Only in the evening Karakashev could call a friend and asked him to find a lawyer "- sends Savchuk. "The investigator Abushaev showed he did not remember how long Karakashev was handcuffed – 5 minutes or 3 hours, and ride Karakashevu department" suggested "to which he agreed to voluntarily", – says the journalist.
February 2, 2018 Yevpatoria City Court Karakasheva arrested for 2 months on suspicion of committing crimes under Part 1 of Art. 282 (hate speech and hate) and Part 2 of Art. 205.2 of the Criminal Code (public incitement to terrorism).
As follows from the decision to institute criminal proceedings, according to investigators, Karakashev with one of your pages in "VKontakte" in late 2014 published a video which allegedly encourages terrorism. In addition, according to the regulations, in January 2017 he was posted to another account in chat 35 people text that contains signs of "propaganda ideology of violence" and "incitement to terrorist activity." Does not specify that it is published Karakashev, however, the document states that the experts examined "teletext, beginning with the words" hand grenade used against "and finishing with" windows authorities, good luck. ' "
It is obvious that the reason for initiating a criminal case was published in the social network "VKontakte" video "The last interview Primorsky Partisans" in which the guerrillas to explain the motives of their actions. This video is recognized as extremist in Russia as "excites hatred of a particular social group."
According to the lawyer Alexei Laden himself Karakashev Eugene believes that the excitation criminal proceedings against him and the subsequent arrest related to his activism: a man opposed the construction of the resort zone at Yalta in the vicinity of the salt lake. Eugene is an anarchist, holds anti-fascist views. Karakashev has always been active citizenship, participated in a demonstration near the FSB building in Simferopol, and in November 2016 together with his friends planned to hold a rally "against police in the Crimea," near the building of the Interior Ministry of Yevpatoria. Then, holding the picket it was banned by local authorities Yevpatoriya. After this incident, Eugene called the staff of so-called law enforcement and invited for a talk to give explanations,
Signs of politically motivated persecution
With high probability it can be argued that the criminal proceedings against Eugene Karakasheva was initiated in the context of his opposition political activities as a member of repeated protests in the Crimea. In the context of unfolding from January 2018 persecution left-wing activists and antifascists, the case is politically motivated Karakasheva looks likely.
Thus, the circumstances of the harassment suggest that the deprivation of liberty for Eugene Karakasheva was applied to stop his public activities, the deprivation of liberty was used in violation of the right to a fair trial, and other rights and freedoms guaranteed by the Constitution of the Russian Federation, the International Covenant on civil and political rights and the European Convention on human rights, and was based on the falsification of evidence of the alleged crime at Otsu hindrance of its composition.
How can you help:
You can transfer money with a note "for Eugene Karakasheva" in the APC fund the next wallet: Yandex: 410011258065987
For more information about how to replenish Yandex-purse.
You can also use Paypal system: our address – abc-msk@riseup.net also please indicate "for Eugene Karakasheva"
In addition, you can transfer funds to the accounts of group support Eugene Karakasheva in Crimea:
Beneficiary's Bank – Russian National Commercial Bank (PJSC)
C / S number 30101810335100000607 Bank of Russia branch in the Republic of Crimea,
BIC – 043510607, VAT number – 7701105460, KPP – 910201001
Beneficiary account – 30232810440002000004,
Recipient Name – RNCB Bank (PJSC)
Purpose of payment – recharge cards 2200 0202 0130 8733 (gaps in the card number is not allowed) Prysyazhnyuk Alexei Borisovich
You can also write a letter or send a postcard to Eugene Karakashevu, it is necessary to imprisoned comrades are not left alone with their problems, that he felt our solidarity and support.
Address where you can write a letter to Eugene Karakashevu: 295006, Republic of Crimea, Simferopol, bul. Lenin, 4 http://www.krim.fsin.su/structure/sledstvennyy-izolyator-1/
According to the materials of the Memorial Site.
Anarchist Black Cross – Moscow
Source:- avtonom.org/news